At a Glance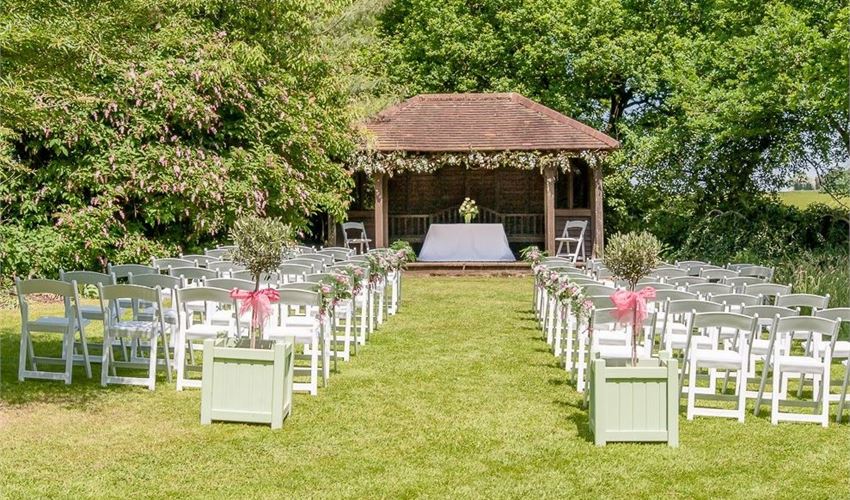 ---
Stunning scenic garden all year round offering a stunning backdrop for your wedding photographs
Flexibility of large or small ceremony offering space for 35 to 100 guests
In-house catering team providing delicious vintage style afternoon tea and buffets
Choice of two beautiful pavilions dependent on the size of your party
Range of other services offered including chair cover hire, flower arrangements and the services of a wedding planner
Alcohol license allowing you to enjoy a drinks reception in the beautiful garden
The Dorothy Clive Garden
The Dorothy Clive garden is a beautiful English country garden with a relaxing and intimate atmosphere located on the borders of Staffordshire, Cheshire and Shropshire.
The garden provides a scenic backdrop all year round, with stunning views of the surrounding countryside and is perfect for your special day, providing plenty of photo opportunities to create a plethora of memorable moments for you both and your guests.
We offer a choice of four licenced wedding venues, one outside in the Belvedere Pavilion at the top of the garden with magnificent views which can seat up to 100 +guests , the glass house which is suitable for small weddings of up to 40 guests, we offer our inside ceremony in the Bryan Mayer Pavilion which has been recently redecorated which creates the perfect setting for small weddings and can seat 75 guests. Our final option is anywhere in the garden. We have held wedding ceremonies in our beautiful woodland.
We are very flexible and offer couples the opportunity to get married at the garden then leave to hold a celebratory meal at a local restaurant or hotel.
A delightful vintage Afternoon Tea would be a perfect way to complete your special day at the Dorothy Clive garden. We also have a variety of outside caterers who cater for us so we can offer buffets, hot meals or hog roasts.
Pricing examples as a guide:-
A simple small wedding for 35 guests, ceremony inside our Bryan Mayer Pavilion - \xa3900
An indoor ceremony for 35 guests in our Bryan Mayer Pavilion which includes covered chairs and sashes in pale green, a simple flower arrangement using flowers from the garden to enhance the room, a prosecco toast after the ceremony and the services of our wedding planner to help on the day.
Add afternoon tea or buffet option for \xa325 per person
A wedding ceremony outside in the Belvedere Pavilion for 50 guests - \xa31100.
The price includes the hire of the Belvedere Pavilion for the ceremony, the hire of 50 outside chairs, a prosecco toast after the ceremony and the services of the wedding planner to help ensure the day goes smoothly.
An outside wedding in our Belvedere Pavilion followed by an afternoon tea or buffet in the Bryan Mayer Pavilion with a prosecco toast for 50 guests - \xa33000
Price includes the hire of the Belvedere Pavilion and Bryan Mayer Pavilion, the hire of chairs for the outside ceremony and chair covers and green sashes on the chairs in the Bryan Mayer. Afternoon tea or buffet served on tables covered with white damask table cloths with vintage china and table decorations. A prosecco toast and permission to take photographs in any part of the garden.
Have a marquee and an outside wedding, everything included - tables, matting, chairs, bar, lights etc - from \xa34500
Venue Type
Beautiful garden setting
Outside or inside ceremony
Dining Options
Afternoon tea or buffet
Alcohol Licence
Bring your own caterers
Capacity
Small weddings up to 50 welcome but can hold ceremonies for 75 inside and outside ceremonies for 100+ , marquees up to 150.
Venue Assistance
Wedding planner
Market Drayton Willoughbridge Shropshire TF9 4EU