At a Glance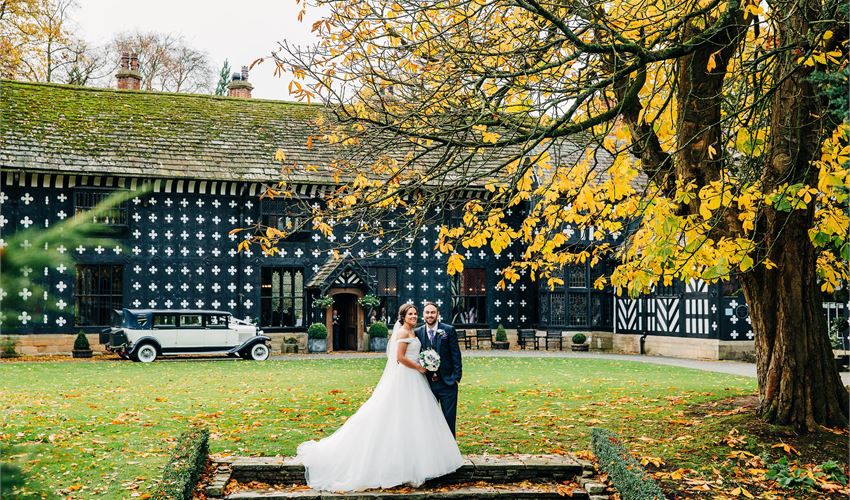 ---
Samlesbury Hall is available on Fridays and Saturdays for weddings and other days by special arrangement
Civil ceremonies can be arranged for up to 120 guests
We can cater for a maximum of 150 guests at your wedding breakfast and up to 200 for your evening reception.
With our beautiful grounds and stunning choice of indoor spaces, we can adapt to suit any weather
Our four star guest lodge is available within the grounds
For late availability dates, please visit our website www.samlesburyhall.co.uk/weddings
Samlesbury Hall
At Samlesbury Hall, the grand splendour of the Great Hall, the intimacy of the beautiful Whittaker Room and the gorgeous setting of your own private gardens will be yours for the day. Together with an exquisite menu and wine list - designed especially for you, a Samlesbury Hall wedding fulfills every dream, and will ensure that your special day is as perfect as can be.
Samlesbury Hall has played host to weddings for over 50 years and we welcome you to become part of our history. Whilst this is a wonderfully exciting time, it can also be a daunting task to plan your perfect day. We are here to offer a warm welcome and help you create a wedding that dreams are made of.
In the grounds of historic Samlesbury Hall sits a gathering of colourful huts; Samlesbury Hall Shepherd's Hut Hamlet... a rustic and carefree alternative to your traditional hotel room.
Just as luxurious but with a rural edge, the hamlet is home to a collection of beautiful shepherd's huts, hand crafted to keep you toasty in winter and cool in the summer. Complete with two double beds in European oak, the huts boast all those little extras - memory foam mattresses, low-wattage electricity to keep your phone charged, as well as a cosy en-suite. The bathroom includes a spacious shower, hot water and soft towels, along with luxury toiletries. The huts are heated and well lit, including a camping lantern to add a rustic touch to your stay (and to light a moonlit walk).
The huts sleep up to four people and are available all year round.
Preston New Road Samlesbury Preston Lancashire PR5 0UP