At a Glance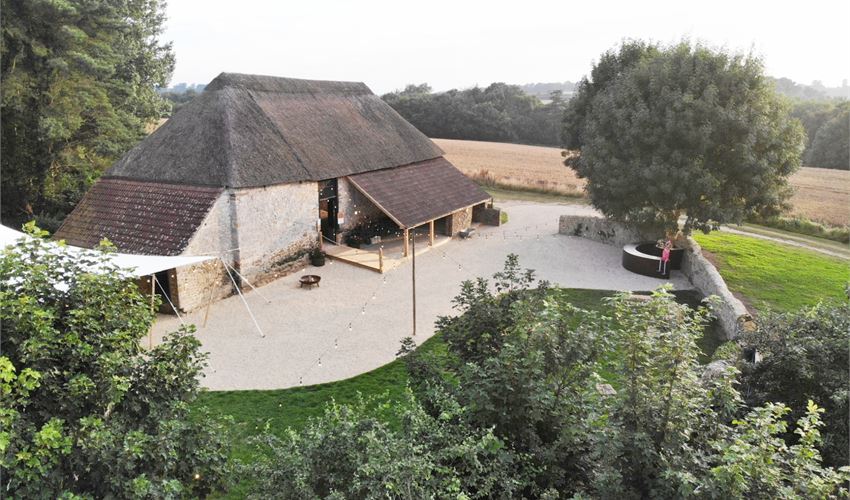 ---
The Cider Barn is a rustic and minimally restored old stone thatched barn
Exclusive use of the barn, walled garden and outdoor bar
Luxury accommodation and glamping available on the surrounding Dillington Estate
Set in the heart of the Somerset countryside with stunning views
Relaxed, informal ambiance, where you are invited to create your wedding, your way
Cider Barn
FACILITIESCider Barn is available for weddings and events between May and October.
We are happy to work with you to help you create the wedding you want, your way. The barn is a large stone walled space with its thatched roof, large doors, and the walled garden outside. We have a small enclosed lean-to room at the East end, which can used by your caterers - and you are free to use the caterers you want, we won't insist you use ours, but we can recommend some good local ones.
There is also a lean-to space to the North, which opens out onto the garden and courtyard where there is a wooden bar under one of the trees in the garden, illuminated by fairy lights wrapped all around the tree.
CEREMONYWe can host weddings in the barn of up to 120 guests. For larger weddings, if you're a member of the Church of England, Whitelackington's church of St. Mary's is right next door and can accommodate up to 140 guests. We would be hapy to introduce you to the local vicar.
RECEPTIONInside the barn the fairy lighting, exposed thatch and rope and metal chandeliers create a magically romantic space to hold your reception. The Cider Barn can seat 120 guests around tables for dinner, and with the barn and the walled garden outside, the venue has space for many more standing for drinks.
If you need the extra space and the weather demands it, we can use a stretch tent to roof part of the walled garden outside the barn to create a covered area for guests while the ceremony space is prepared for dinner and then later for dancing. The tent can be positioned differently to create more or less space in the walled garden, depending on numbers and how much space is needed.
CATERINGThe catering is an essential part of any wedding day, and to make sure you can arrange the day you want, we are happy to work with whichever caterer you choose, but we have relationships with a few local caterers and will happily introduce you so you can get quotes and a feel for their offerings.
ACCOMMODATIONWe have some lovely holiday cottages across the Estate. They are listed on our website, including the Dairy House (sleeps 14), Atherstone Farmhouse (sleeps 10), Atherstone Farm Cottage (sleeps 4) and Orchard Cottage (sleeps 6-8). We can also recommend a list of other local places to stay on booking, or provide space for guests to camp / glamp.
We would be delighted to host you - please do get in touch!
Whitelackington Somerset TA19 9EH