At a Glance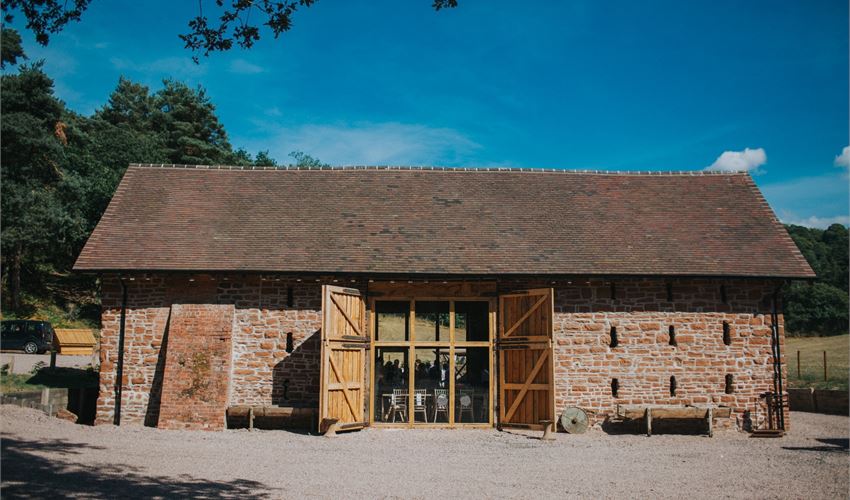 ---
Self Catering, No Corkage private Barn & Tipis
Ancient, sandstone barn, situated in 80-acres of private, secluded Shropshire woodland
Licensed to host your civil ceremony
Bring your own suppliers with you, so you can create a completely bespoke day
Enchanting tipis set in the wood, ideal for the quieter moments in your day
Romantic Shepherd's Hut available for your first night as newlyweds
Bridal Barn
Self Catering & No Corkage - Choose all your own suppliers so that you can have exactly the wedding you have imagined.
Secluded, exclusive, and utterly enchanting, Bridal Barn sits proudly in the absolute bliss of the Shropshire countryside. An ancient sandstone building, lovingly and beautifully converted into a wonderfully unique space, it is a once-in-a-lifetime venue to host your wedding day.
Nestled away in the heart of a private, 80-acre woodland, Bridal Barn has everything you need for an unforgettable wedding day. The barn itself is a rustic vision. Boasting delightful wooden beams, ancient stonework, and stunning views, it is everything you've ever dreamed in a barn wedding venue. Married together with a wonderful range of modern luxuries, the barn is only the very beginning of what makes this venue so special.
Surrounding the barn, you will find a wedding adventure waiting to happen! Follow the tea-lights up to the tipi in the woods, or perhaps sit around the warming fire pits, your wedding day at Bridal Barn will feel as if it's been plucked from a fairy-tale.
When booking with Bridal Barn, there are no limits to what your wedding could be. With a license to host your civil ceremony, a separate area for a band or DJ, and a romantic Shepherd's Hut on offer, you can make yourself at home as you celebrate saying 'I do' to that special someone.
When it comes to suppliers for your big day, you can use Bridal Barn's expert help, or source your own, the choice is yours! The most important thing is that you get the day you've always dreamed of.
For more information on the kinds of weddings Bridal Barn can host, please do not hesitate to get in touch.
*At Bridal Barn we offer a self-catering option in order to enable a flexible and cost-effective experience for those who wish to have their wedding at our venue*
Upper Farmcote Claverley Wolverhampton Shropshire WV15 5PS